Does your dissertation need a peer reviewer more than an editor?
Every academic document needs to be edited for clarity, whether it is your research paper, thesis or dissertation. The process of editing involves detecting and correcting the errata in your dissertation such as grammatical errors, inconsistency and the discontinued flow of ideas in the dissertation. The editor can edit and proofread your dissertation while rectifying all the errors in it but on most counts will not be able to map the knowledge inadequacy in your dissertation. Your editor would be an expert in language editing but may have a deficient knowledge of the subject of your dissertation.
The job of your editor is limited to spot the grammatical errors and the typos in your dissertation. He would correct, organize and modify the written content but would not be able to comprehend the topic and hence suggest logical improvements. You need to make sure if just language editing with suffices your requirement?
Don't you wish your dissertation to be minutely reviewed for the logic, appropriateness of topic and for correct research process apart from language parameters once before it reaches to the supervisor? If yes, then you should get it reviewed by a peer reviewer rather than an editor who will be an expert in your topic of research. Not only the qualification in the same field but also the knowledge and experience is counted as a prerequisite to becoming a peer reviewer. This way, your dissertation is checked not only for grammar accuracy but also for the logic and research validity.
So, would furnish your dissertation for ultimate submission to your advisor and doctoral committee.
Editor Vs Peer Reviewer
| | | |
| --- | --- | --- |
| | Editor | Peer Reviewer |
| Grammar Check | Yes | Yes |
| Punctuation | Yes | Yes |
| Flow and Transition | Yes | Yes |
| Guideline Check | Yes | Yes |
| Importance of Dissertation | No | Yes |
| Scope of research | No | Yes |
| Synthesis and relevant analysis of literature review | No | Yes |
| Choice of adopted methodology | No | Yes |
| Accuracy of the facts | No | Yes |
| Validity and authenticity of the results | No | Yes |
How does a peer reviewer work: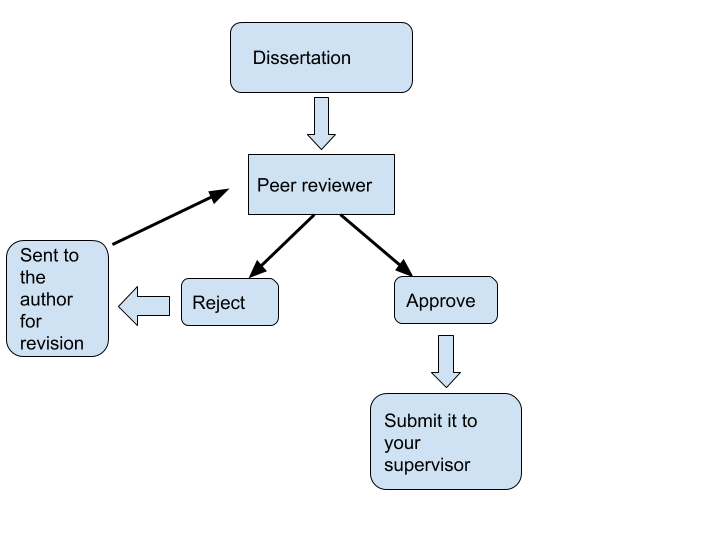 Make sure that your peer reviewer works efficiently with a quick approval of the dissertation in the given time frame so you can submit it to your supervisor as soon as possible.
Making the choice!
A peer reviewer and an editor have different roles to improvise your dissertation as we have discussed the functions of both of them. Your peer reviewer is that advantage you have on your side who guides you with the intellectual deficiency of it whilst the editor is a professional and works as per his job to alter the dissertation only for language purpose. But who should you choose? A professional editor or a peer reviewer? Your choice depends entirely on the quality of your dissertation and what you think would be beneficial to make it perfect.